In this article:
Display the detailed statistics of a mailing
The performance of your last mailing is always displayed on your Dashboard and can also be accessed in your list of previous mailings sent from the menu.
Click on Statistics in the action menu "..." in the last mailing performance box on your Dashboard.



Or from the Previous mailings, choose the option.


menu, under
It is possible that you notice a discrepancy between the total number of emails sent and the number of contacts selected. This is due to contacts who have unsubscribed and incorrect email addresses.

Your mailing performances
The purpose of this graphic is to give you a quick visual of the performance of your mailing. The percentages are as follows.
Delivery rate:
The delivery rate is the number of emails that have successfully reached their recipients mailboxes.
Opening rate:
This is the number of emails that have been opened.
Click rate:
This is the number of clicks counted, all links and all contacts combined. Statistics for each link are also available on the Links statistics table at the bottom of the detailed statistics page of a mailing.

Listing contacts who have clicked on a link
A list of all links in your mailing is displayed under Links statistics at the bottom of the detailed statistics page of a mailing. By clicking on the numbers, you can see exactly which member has clicked on each link.

Note: this list doesn't show up if, the mailing had no link.
Contacts who unsubscribed
Click on the Unsubscribed button under this statistic to view the list of contacts who unsubscribed from this mailing.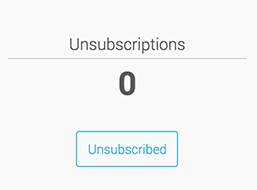 Statistics per group
If you sent to multiple groups, it may be interesting to compare the data for each one. This is shown in the table Target groups at the bottom of the detailed statistics page of a mailing. You can click on the figures outlined in the table to access detailed information for each statistic.

Global account statistics
To view your account's global statistics such as number of subscribers, unsubscribed contacts, express or implied consent, incorrect addresses, letters sent, and total openings, click the Icon Consult your statistics in the menu on the left of the screen.

Export mailings statistics
Export global statistics of all mailings
To export the global statistics for all your previous mailings to an Excel file, click on the Export button on the Global Statistics page.

Export statistics of one single mailing
Go to Previous mailings tab.
and click on the
In that page, click on the icon
at the end of a row to open the action menu. Click on the option.
Then, click on the Export statistics link under your mailing's performances.




Note: if it's your most recent mailing, the mailing performances box and export link will also be displayed on your dashboard.